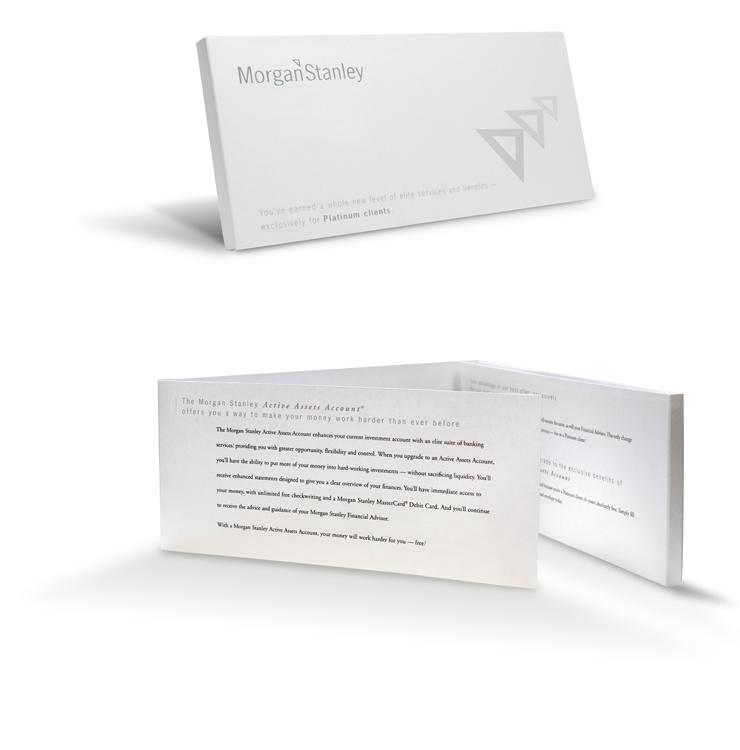 Morgan Stanley
Direct Mail
Package
Project
Direct mail package for an account upgrade
Challenge
What do you do when you have a customer base that deserves personalized attention and you have a product they could benefit from? You call the folks at M. Barry and Co. who know what it takes to create successful direct marketing.
The challenge was twofold: Inform these customers about a more robust account that would be more likely to consolidate assets and increase product holdings. And second, do it in a way that lets them know how much Morgan Stanley values them.
Our Solution
We developed highly impactful, upscale packages that made each customer feel special. Each package used pearlized paper, metallic inks, and hot-foil stamping to create a high-end product with real open value. We communicated the information in a clear, concise manner that succinctly outlined the benefits of what they had now and what upgrading would mean to them. And we made their upgrade a one-step process.
Results
Actual results are confidential, but far exceeded expectations. Morgan Stanley's Chief Marketing Officer said, "This is the best package Morgan Stanley has ever done." The program took first place at the Financial Communications Society Portfolio Awards.